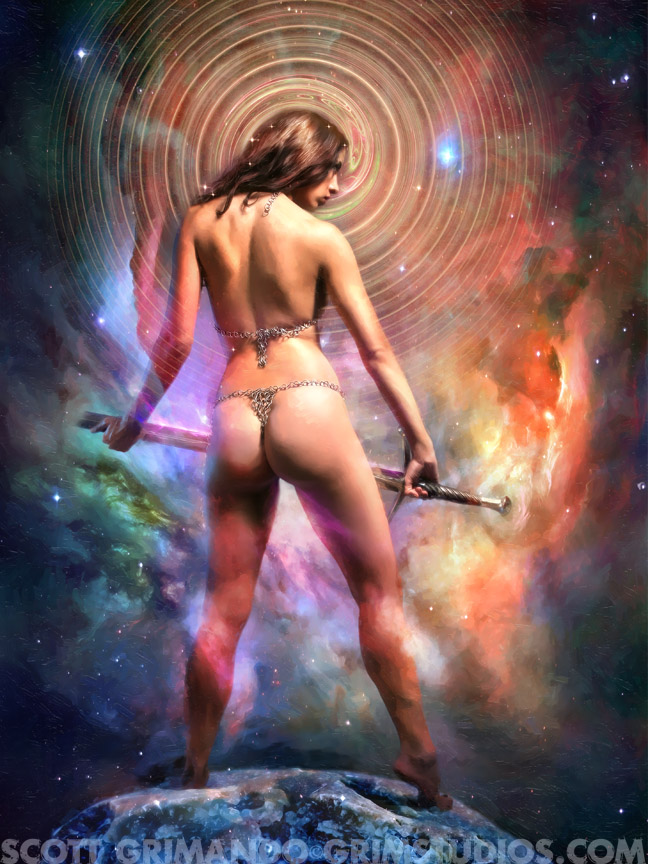 Sword of Creation © Scott Grimando
Heavily inspired by Boris Vallejo, when the model struck this pose I immediately thought that it would make a great Boris tribute.
I've always drawn. When I was little I knew I wanted to be an artist, or I should say I knew I was an artist. I didn't always know what direction my career would take.
In 1979 my father brought home a Boris Vallejo calendar for me. I can remember thinking that this is what I wanted to do. It was a defining moment for me as a child.
The figures were so well drawn and realistically painted that it seemed almost incomprehensible that anyone could have rendered them by hand. Boris was incontrovertibly the best fantasy painter in the world and I wanted to be just like him.

Since then I've come to know his extremely talented son, Dorian (who's my age), and through him I've met Boris several times. Besides the warmth and integrity that flows from the man there is an overwhelming passion for his craft. The impact of that passion can be seen in the work of his wife Julie, his son Dorian, and his stepsons David and Anthony Palumbo as well as the countless other artists he has inspired.